Black Copper Marans is one of the rarest breeds of chicken in the United States, producing one of the darkest chocolate-brown eggs known. Although quite common in France, due to an import ban on fowl, it is one of the rarest breeds in the United States. It is highly prized by chefs, both for it's color and quality.

It does not have an APA (American Poultry Association) Standard of Perfection, but the French Standard is your best bet. There are two respected lines in the US: Wade Jeane and Bev Davis. There are many who claim pure Black Copper Marans. Watch out for statements like "clean legged Maran." The standard is feather legged. If it is clean legged, it is not a pure maran and you will not get the dark eggs that you want.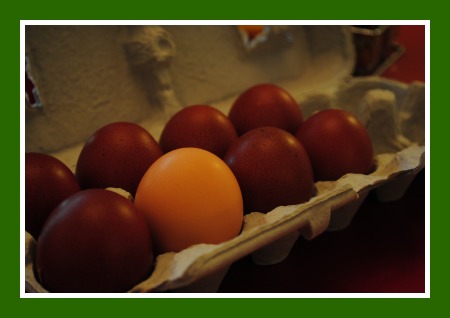 I purchased my chickens from Tom Culpepper in South Georgia. Several years ago, Wade Jeane was no longer able to keep his flock and he divided his Black Copper Marans between Tom and a man in Alabama. There are many who claim that they purchased their chicks from Wade Jeane, some as frequently as several months or years ago. Be careful. Not all breeders are completely truthful. Do your homework. These are rare, expensive chickens. So sometimes people have failed to be completely honest.

We do have French Standard Black Copper Marans for sale. These chickens are an investment. But they are a true pleasure to own. I still haven't gotten over the thrill of gathering these extraordinarily beautiful eggs. We sell chicks for $15 each and hatching eggs for $100 a dozen or $60 a half dozen. If you are interested in investing in this breed, contact me.

Are you getting your veggies?

Berry flavored ItWorks!

Greens can help!