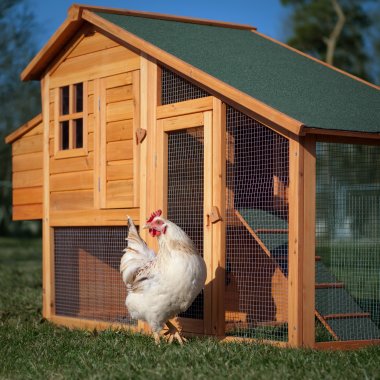 Once you establish your backyard flock, it is relatively easy and inexpensive to maintain, and the benefits are great. Chickens eat bugs, generate fertilizer, and produce beautiful, tasty eggs. All you have to do is crack a farm fresh egg and look at the rich, golden yolk to know that they have great health benefits.

We learned the hard way to keep it simple and to get good advice before starting. Housing can be very expensive or very affordable. It depends on where you shop and how fancy you want to be. Sometimes the least expensive in the short run isn't the least expensive in the long run. The housing must have good ventilation and must also be secure to protect your flock from predators. You will have to determine how much of a threat predators will be in your particular area. Trust me. It is painful to realize one of your chickens has fallen prey to a predator. Contrary to popular opinion, chickens can and will fly enough to get over the average fence. You can build a coop from scratch. But, unless you are a skilled carpenter, this often leads to spending more money than you were meaning to save. Just make sure that the size is good for the amount of chickens you desire. Also, if you want to move the house around, you might want to determine if it is movable.


An alternative is a six ft high dog kennel. The 6 ft height will minimize your hens flying over it and bothering neighbors and will offer great protection from predators. The 84 sq feet area offers plenty of room for free ranging. I have found that four hens can live quite comfortably in a large dog house. They will utilize it for laying eggs and shelter during inclement weather. When the weather is good, they will roost on the top.

These can be expensive, but I have found them to be very affordable at dogkennels.com. Dog kennels can be expensive. Even on craigslist, they want top dollar. I found a great one with 84 sq ft and 6 ft high at dogkennels.com for only $250. The lowest price that I found for a rusted one on craigslist was $160. When you use the links on this page, there is no shipping cost (and the shipping is fast) and no sales tax, making it far better that I can get at any local retailer. I have found good prices on dog houses at Walmart and Big Lots. The added benefit of using the dog kennel for chicken housing is that in the event that you decide chickens are not for you, you can use the kennel and house for other purposes. You could even put it around your garden with netting on top to keep critters out.


If you are going to go with a coop, I suggest that you check out some of the ready made coops available. There are links below to several affordable coops. I would first check out chickencoopresource.com. You will see the link below. They have any type of coop that you could hope for and they are remarkably affordable, plus the shipping is really reasonable for items of this size, around $10. I also like Amazon because with the Super Saver Shipping, you don't get killed on the shipping.

Besides your coop, you only need a feeder and a waterer. Don't scrimp by not getting a waterer and feeder. Chickens must have fresh water and they can be very messy. They enjoy "scratching" at stuff. So, they will turn over bowls, leaving them without water and wasting alot of feed. Feed is relatively inexpensive, but you don't want to waste it. A source of fresh water is essential, especially in the summer. There are many houses that you can move around your yard, enabling your chickens to also feed on grass and bugs, resulting in happy chickens and happy you. Both Amazon and Jeffers Livestock (link below) are great places to get a good price for your waterer and feeder. Jeffers has the best overall selection. All orders over $49 ship free from Jeffers.

Backyard garden and chicken consultations are $60 in the Metro Atlanta counties of Gwinnett, Fulton, DeKalb, Rockdale and Henry. We are willing to travel outside of these areas for an additional travel fee.
For easy answers to raising a small flock of chickens, you might want to try the Answers to Raising Chickens, A Complete Guide to Keeping Chickens, to order
Click Here!
or The Complete Guide to Raising Chicken at Home - In Your Backyard, to order
Click Here!
Super Sale! Up to 40% Off Top Rated Chicken Coops