Producing your own food is a key element of a sustainable lifestyle. Imagine going to your deck or to your yard and selecting all the ingredients for your salad or stir fry. It doesn't get any fresher or healthier than that. It is possible for any person to turn their urban or suburban area into a backyard farm. After the initial setup, it is simple and economical to maintain.
I have been growing produce for years, learning by the side of my mother and grandmother. It has been very satisfying to learn and participate in this activity that at one time seemed to me to be something reserved for their generations. Through the years, I have learned how to adapt the farming lifestyle to my current life. I have found container and raised bed farming to be the solutions to integrating the two. In fact, container gardening made it possible for my grandmother to continue gardening until the last few months of her life. It was wonderfully therapeutic.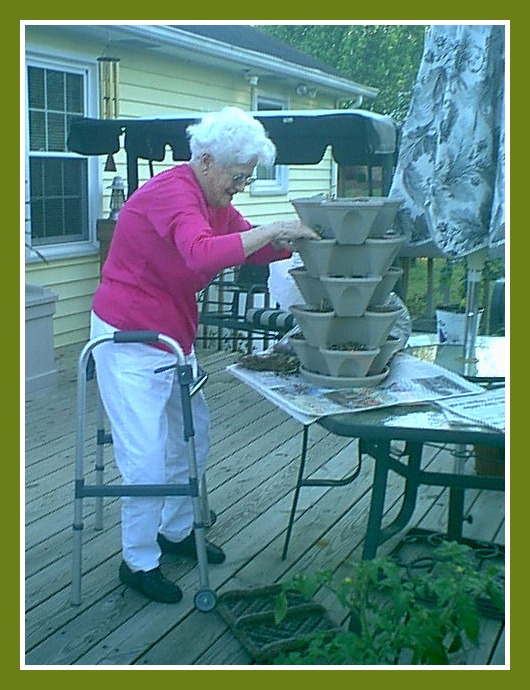 Advantages of Raised Bed Farming
Aside from avoiding the issue of gardening in poor soil, raised bed gardens offer several advantages:
Plants can be spaced a little closer together in a raised bed because you don't need places to step. This increases productivity per square foot of bed and reduces weeding when the plants begin to mature.
Gardeners wishing to extend their growing season benefit from the warming effect of raised beds. I have also enjoyed the benefits of a winter garden consisting of greens, broccoli, cabbage, and brussel sprouts.
Water, fertilizer, compost, mulch, etc. can be applied more carefully because they only need to be applied to the garden beds.

Raised beds tend to drain away excess moisture better than ordinary garden beds. This helps the plant roots to breath. In areas that have saturated soil, such as Florida and many areas of the South, raised beds may be the only way you can grow many types of plants.

Studies have shown that raised garden beds produce 1.4 to 2 times as much vegetables and flowers per square foot as ordinary beds, due mainly to the above advantages. You can have a smaller and more manageable garden that produces more goodies for your table.
Traditionally, gardeners plant their entire garden once each year, in the spring. Gardening in raised beds makes it easy to keep every square foot in production from early spring right through summer, fall and winter. The past two years I have really enjoyed my winter garden of broccoli, brussel sprouts and a wide variety of greens. By using a raised bed, in almost every growing zone, you can increase the amount of food produced by 50 or even 100 percent.
Lettuce, other salad greens, radishes, peas and other fast-growing, cold-tolerant crops can be planted in the middle of spring and will produce until mid-to-late June. At this time, remove the plant and compost it. Then you can add some compost and plant something else in that space.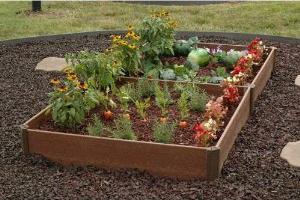 Choosing Your Raised Bed
Choosing the correct raised bed or planter is important. It is not only an aesthetic choice, but it also will impact your plant's ability to thrive and your harvest. Look under the Growing Options section for your possible options.

Preparing Your Raised Bed
Before filling the bed with soil, I like to line the bottom with weedblock. Make sure to use one that will allow water to drain out of the bed rather than a sheet of plastic. This extra step is well worth it in the middle of summer when you only have to gather vegetables and not pull weeds.
I have found that mixing good topsoil with peat moss, mushroom compost, and material from my own compost pile is very productive. I give specific portions under the soil link. If you don't currently compost, you can purchase compost in bags. Don't be alarmed when you see how much material you will need for your bed. Please fill only with dirt that you know to be of good quality and weed free. After the initial fill, you will only need to supplement. When you realize that you will not be tilling and weeding, it doesn't seem like such a large investment. It really does pay off.
Backyard garden and chicken consultations are $60 in the Metro Atlanta counties of

Gwinnett, Fulton, DeKalb, Rockdale and Henry. We are willing to travel outside of these areas for an additional travel fee.
For more information, visit my blog at
http://heavenonearthminifarm.blogspot.com/
Custom Search